Respond Before Tuesday
And You'll Get Access To
My Next Jam Packed,
Fully Loaded Conference Call!
But hurry, seats are limited
March 9, 2010
10:59 a.m. CST
From: Marlon Sanders
Hello,
The date was December 3, 1998.
That is when I created the first rendition of my formula that I have personally used to sell millions of dollars online.
It's a cookie cutter I repeat over and over. I've done that at least 122 times. You can start using what I call "The Writer's Secret" 2 hours and 58 minutes from right now, even if you don't like to write.
Even if you think you've seen it all or heard it all, this is something you might want to pay attention to....
If you'd like to make your living sitting at Starbucks pecking a few keystrokes here and there, or while sitting at a sidewalk cafe or on the beach, if you'd like to generate income almost anyplace, anywhere, anytime, then you'll want to get in on this Quick Start Conference Call.
I'll Cover The 6 Types Of Money You Make With The Writer's Secret
1. Gravy Train Money
This is writing and selling ebooks.
It's simple and fun for me. If it isn't for you, you can choose an alternative. I personally like finding new, interesting ideas that solve problems or help people get results and then writing about them.
But I enjoy researching.
2. Debt Liquidation Money
This is the money you get when you sell upsells that are a bundle of your prior products at a discount. This is money you apply toward debt liquidation.
3. Cover all your bills each month money
You do this with a membership site.
You don't HAVE to have a membership site. But it's really useful because you get the recurring billing money coming in every month. And since you have bills coming in every month, it's comforting to know you have income coming in to match the bills you have.
4. Fun money
Fun money is whatever else you do during the month that generates money. Fun money can pay for toys, vacations, fancy cars or whatever you want. Your own imagination is the only limit. You can create and sell webinars, promote affiliate products, promote other recurring billing membership sites, or create and sell more in-depth training programs.>
There are two that I like:
4a. 4-6 week webinars on my new ebooks
This is great because you're still excited about the topic and the people buying from you are also excited about the topic.
I charge $297 to $697 for these. But $199 isn't bad. It's easy money. You hop on a webinar and talk for an hour with a few power point slides. Then answer some questions. It's really a no-brainer. And you can record it and sell the recordings later.
4b. 90 minute – 2 hour one-time webinars
You can sell these for $50 to $100, or more if you have a really hot topic
5. Future Savings Money
You can pump out a promotion for your webinars to your resellers and get a nice bump in income. You toss this money right into your retirement or savings account.
6. Gusher Money To Buy Cars or Toys With
I'll explain in a minute how you can get lucky and hit a "gusher." If you do, then that is money over and above all other money. You can't count on hitting a gusher. It's a hit and miss thing. And most of the time you'll miss. But if and when it happens, and it has happened for me more than once, it's a GREAT thing!
I used one "Gusher" in the amount of $25,000 cash windfall to pay off some IRS debt, credit card debt and had money left over for other stuff.
6 Totally Profitable Reasons
To Get Yourself On The Conference Call:
Here are the 6 things I'll reveal:
1. My secret strategy for reverse engineering finding a great group of folks to sell to. This is something only I teach. And it'll save you a small fortune in wasted time and effort.
2. Effortless Product Ideas -- How to Create a Brain Rush That Causes Your Brain To Spit Out Killer Product Ideas Almost Effortlessly -- In Only 16 Minutes (give or take a few).
3. Hyper Speed Research -- How to suck up the info you need for your product without spending hours and hours staring at the computer screen -- there's an EASIER way!
4. The Foolproof Product Outline -- I came up with this the other day for a friend. It's my most foolproof step-by-step product outline yet. A friend of mine created 1/2 of an ebook while he was on a train ride -- writing on his iPhone!
5. The traffic "lock in" strategy -- How to lock in your traffic when you CREATE your info product. You'll know in advance WHERE your traffic will come from.
6. How to get PAID to build your email list and end up with the best of both worlds -- a big list AND money in your bank account.
This call happens NEXT WEDNESDAY at 11 a.m. Central Standard Time, 12 EST, 9 Pacific.
Now, the call WILL be recorded if you're in Australia, UK, Singapore, Japan, Hong Kong or one of the many other countries where my buyers are located.
To get on the call, just PLACE YOUR ORDER today! That's it. You'll be emailed the call details on Friday.
Now, if you're not sure what's in the Writer's Secret, just go to:
http://www.thewritersecret.com
How You'll Benefit From The
Quick Start Call
1. You'll have a chance to ask your burning question. You can email me a question and I'll answer it on the call if it applies to everyone.
There's nothing worse than having a question that's bugging you and you can't get it answered.
2. You'll gain CERTAINTY on what you need to do to get off to a fast start.
I'll end the call with a short action plan to get you going with confidence.
3. You'll gain new, faster, simpler, easier ways to find WHO you want to sell to, WHAT to sell them and where to get the know how.
These are the crux of the method. You'll leave with newfound insight and enthusiasm.
4. Get motivated
I'll pump you UP to get going strong and fast. Everyone can use a little motivation.
To get on the call, just go place your order right now:
http://www.thewritersecret.com
Here's an overview of just a few of the things in the ebook.
Here Are Just A Few
Other Little Things You'll Learn
In The Writer's Secret Ebook

The brand new plugin (dirt cheap compared to other options) that makes OTO's and upsells a piece of cake. This saves a MINIMUM of 45 minutes every time you use it.

The nitty gritty implementation details almost NO one gives you. Without these details, you're building castles in the sky, chasing rainbows and are sure to be dissapointed. With the right details, you're empowered and ready to go.

How to spend time hanging around at Starbucks, bed and breakfasts, vacation spots, relaxing environments – and making money.

Super useful links to real world examples of what I'm talking about so you're not left scratching your head.

How the "rental" strategy works for an info product business.

Instead of writing words once and selling them once, write them once and get paid over and over and over again for them? Doesn't that sound like a 100X better way to make a living.

How to write words anywhere and get paid for them: I've written words in Hawaii and sold them. Written them at bed and breakfasts. Written them about anyplace you CAN write them. The only real tool I need is a laptop and an Internet connection.

Where to get new product ideas.

How to have a pretty good idea that your product will sell before you write it.

How to create letters using a specific formula proven to get people to buy your products.

How to assemble your web pages with the least effort for maximum sales.

How I get thousands of visitors to my web pages.

How to set up your ordering system, so people can pay you with credit cards, without paying exorbitant fees that aren't necessary.

How to automatically deliver ebooks without lifting a finger.

How to protect your intellectual property so it doesn't get stolen.

How to automatically get your buyers on an email list so you can give them the opportunity to buy all your new products.

How to create upsells so people who buy have an opportunity to spend more money on the spot, thus boosting your average order size and putting more money in your bank account.

The one software program you must have to automate your system that will save you hundreds of dollars and keep you from hemorraging money every month you do NOT need to spend .

The brand new plugin (dirt cheap compared to other options) that makes OTO's and upsells a piece of cake. This saves a MINIMUM of 45 minutes every time you use it.

The Torrent Buster: Where to get "secret codes" that put your products on hard core "lock down" and keep them off the torrents.

The best day of the week to send your emails.

The secret of keeping dollars flowing in monthly in abundance -- without stress, hype, or whoring out your list).

The 11-minute method to find smoking hot topics to write about.

Hands down the #1 best source of visitors and traffic to your web page.

The "hush-hush" secret of selling newsletters and continuity a lot of people don't know about or do.

The easiest money you'll ever make (it's surprising how few people take advantage of it)

The Evergreen System: How to sell your words over and over again for years to come.

How to easily add upsells and downsells.
Questions you may have:
1. Do I have to write?
Answer: No, you can talk and use audio or screen capture video also.
2. Is this the SAME information as in your other products?
Answer: My basic marketing model is the same but I have NEVER taught it like this before. And I give you a lot of juicy little tips and secrets I haven't given anyplace else.
3. Did you write both the product and the sales letter?
Answer: Yes, you're getting 155 pages written by the same dude who wrote the sales letter.
4. Am I guaranteed to make money?
Answer: No. But if you do what I show you how to do, and I don't see any reason you can't do it, then I really gotta believe the odds are in your favor. The fact is, most people who don't make money don't follow the formula. There are 7 steps to the plan. If you don't do all 7 steps, I doubt you'll get the result you want.
5. Is this going to make me millions of dollars like doing product launches?
Answer: There are some people who make millions doing product launches. They also tend to be complex, refunds can run as high as 30%. Your merchant account may hold back 20% of your money for 6 months (or more). Plus, you have to pay your affiliates 50% or more. That's quite a bit of risk. My "coookie cutter" method is simpler but I also talk about how you can "scale up" if you want to.
6. What's the proof this will work for ME?
Answer: The only proof you have is your own confidence in yourself and your willingness to take action and log in 1 to 3 hours a day doing the steps. If you aren't willing to do that, it's a no go. Now, you can take my surrogate proof since 1998 as evidence the formula can potentially work for you. But every person has a different set of potentiality and ability.
7. I'm broke and I ain't got no money. Is this gonna get me money?
Answer: All marketing and business involves the risk of loss as well as the potential for gain. Your risk is VERY limited compared to probably 99% of other types of business endeavors. But no, you may not get money and you might lose a relatively small amount of money. But even that should be mitigated by at least some product sales.
8. How soon can I break even on buying your product?
Answer: As soon as you follow the 7 steps I'd sure think you got a very realistic chance of breaking even. But since this is a NEW product, there are no stats. So I can't represent, hint or promise you'll do anything because of the new interpretation of the law in December 2009.
9. What's different about your ebook than the other 1,000 emails in my email box right now promised easy riches beyond belief with very little work, effort or money and gigantic screen caps of income to prove it?
Answer:
a. I'm not sure those screen caps are legal under the new interpretation of the law.
b. I don't promise easy riches. It takes work and effort.
c. It's an evergreen strategy that has worked for me with small adaptations since 1998. How many other strategies can say that? Honestly....
d. Google isn't going to "slap it" tomorrow.
e. You aren't likely to get your merchant account banned like you are with some highly risky models.
f. You go for steady, consistent income vs. massive grand slams that cause all kinds of problems, stress and grief.
10. How do I know what you say is true?
Answer: Ask on any Internet marketing forum about me. Check Google. Go to archive.org and look up higherresponse.com and look at the back pages.
Act Within The Next
And Get These Incredible Bonuses!

BONUS ONE: New Conference Call!

You'll Get Access To My Next Jam Packed, Fully Loaded Conference Call Where You'll Discover Amazing Ways To Finding Target Markets Coming Up With Products and Much More!

BONUS TWO: How To Create Super Simple OTO Upsells

The benefit of using one time offers is to increase your profits and they can be applied to practically any product or service you're selling!

The problem with the majority of "OTO" (One Time Offer) scripts is that they're difficult to configure, or are incredibly time consuming to set up, taking up to 1.5 HOURS per OTO. I don't know about you but I don't have an hour and a half to get one offer setup!

Fortunately we've found a simple to use script that you can download FREE that makes doing your OTO's a piece of cake! So what we've done is put together a step-by-step video and PDF report you can use to create your very own OTO offers.

BONUS THREE: Special Report Package Includes:

• How To Set Up Your Digital Product Delivery

• How to Securely Deliver Your PDF Files

• How To Enable "One Click Login" Access For Your Customers

• How To Export Your Sales & Customer Data Quickly 'n Easily

• And much more...
Your Order is 100% Safe, Secure,
Risk Free and Fully Guaranteed!
Ironclad, You-Can't-Lose
No Questions Asked Moneyback Guarantee
Because I'm absolutely, positively so confident in The Writer's Secret, I'll make this ironclad guarantee.
Get The Writer's Secret. Put it to your acid test. If for any reason whatsoever you're dissatisfied with the product, return it within 60 days for a full, 100% refund. No hassles. No problems.
You can post a refund request 24/7 at www.getyoursupport.com
That's how confident I am in this Secret.
To order the Writer's Secret just click the ADD TO CART button below. You can pay using any major credit card, e-check, or from your PayPal account balance.
The "Writer's Secret" is digitally delivered, along with the bonuses so you'll get INSTANT ACCESS to everything you've just read about. Works for both PC and Mac users.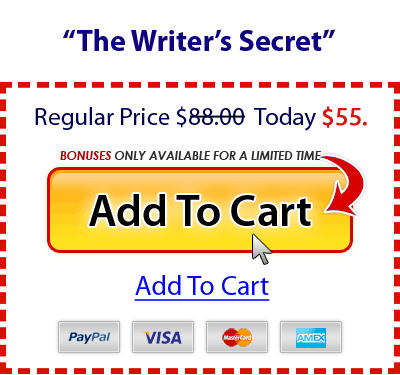 If you need assistance to place your order or have any questions just go to http://www.getyoursupport.com and Tim would be happy to assist you.
Best Wishes,
Marlon Sanders
© 2010 by Higher Response Marketing, Inc. All Rights Reserved.